Advance Directives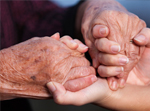 Advance directives are legal documents that allow you to predefine what medical treatments you want or don't want if you are too hurt or ill to express your wishes. Making decisions about end-of-life care is hard even when you're well, making them when you're seriously ill can seem even more overwhelming.
Keep in mind if you don't make the time to do it now you may leave your loved ones with heart wrenching decisions to make later. By preparing an advance directive ahead of time you can give your family the comfort of knowing they are honoring your wishes.
Advance directives include documents like:
Living Wills: Express your preference on accepting or rejecting life sustaining treatments like feeding tubes and breathing machines.
Durable Power of Attorney: Names your health care proxy – someone you trust to make medical decisions for you if you are not able to.
Do Not Resuscitate (DNR): Tells your healthcare team under what conditions you would not want CPR or other measures used to revive you if your heart stops or you stop breathing.
Organ Donor Card: Lets medical professionals know if you want to donate your organs or tissues.
Tools
Sign Up to Become an Organ Donor
In New Jersey alone, there are over 4,200 individuals waiting for a life-saving transplant.


Advance Directives In NJ
This in depth PDF will help you learn more about advance directives. Complete with all needed forms.


Tips for Talking to Your Family
Includes a step by step outline for an effective way to share your wishes with your family.